1 mile = 5,280 feet
1 kilometer = 0.62137 miles
1 acre = 43,560 square feet
1 acre = 160 square perches
1 perch = 16.5 feet
1 rod = 16.5 feet
1 chain = 66 feet
1 hectare = 2.47104 acres

The Earth's magnetic pole moves an average of 6.2 miles per year.

A land surveyor locates land title lines and shows the relationship of possession and title lines; he does not declare who has ownership of land or who has the right of possession. Such matters are referred to attorneys.
From:
Boundary control and Legal Principles
By Curtis M. Brown

"The problems of boundary lie at the foundation of all surveying, for one must know where a line is—before he can measure it….."
From:
Boundaries and Landmarks,
A Practical Manual
By A.C. Mulford

Blazing or painting the trees on a boundary is a common form of marking lines. These must be repainted approximately every 5 years, or when needed.

Common Boundary Survey Monuments
(Left to Right)
Axle, Aluminum Monument, Iron Pipe, Iron Pin.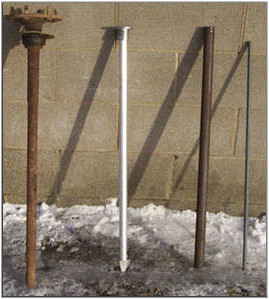 Stone Monument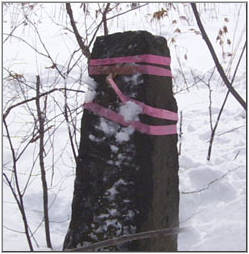 Carved Stone Monument